PRESIDENT'S ADDRESS TO THE NATION ON THE EVE OF THE 59TH INDEPENDENCE DAY-2005 ~ PART I
Topic: Developed India - HOW ?
14-08-2005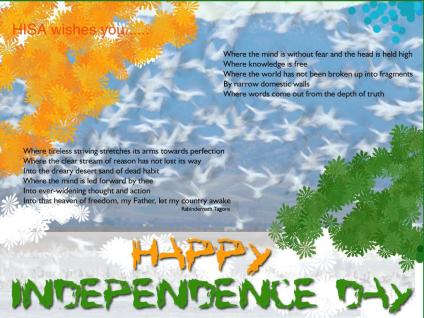 My Dear Citizens of India,

On the eve of the 59th Independence Day, I extend to you my best wishes for your happiness and prosperity. My greetings to all our people at home and abroad. Let us resolve, on this occasion, to remember with gratitude, the selfless and devoted services of our Armed Forces who are guarding our frontiers on the land, over the sea, and in the air. We are also grateful to the Paramilitary and Police Forces for preserving our internal security and maintaining law and order.

I met 137 freedom fighters from 27 States and Union Territories on 9th August 2005 at Rashtrapati Bhavan. I saw their enthusiasm even at their ripe age, to bring back the nationalism as a living movement. Today our country is free, because the freedom fighters gave their best to the nation in their prime of youth. Honouring the freedom fighters is honouring the independent nation and its spirit of nationalism. We must thank them with respect and make their lives happy.

Nature's Fury and its Management

While we are celebrating 59th anniversary of our hard earned political independence, we have to remember the sufferings of our people affected by the recent rain and flood in Maharashtra, Gujarat, Madhya Pradesh, Himachal Pradesh, Karnataka and Orissa. The city of Mumbai and other areas in Maharashtra bore the brunt of nature?s fury. The people of these areas are meeting the challenge with courage and fortitude. The Prime Minister had visited some of the affected areas. I spoke to the Chief Minister of Maharashtra while he was visiting various places affected by the floods and I also shared my concern with other Chief Ministers. Maharashtra needs help at this critical juncture to mitigate the sufferings arising out of loss of life and properties inflicted by the fury of rain and flood. All the States need to express their solidarity with the people of Maharashtra in their time of distress and suffering, and collectively help in removing the pain of the people. Mumbai needs an urgent reconstruction to face unexpected heavy rain, as it happened this year.

Rainfall and Floods: Rainfall and floods are annual features in many parts of the country. Instead of thinking on interlinking of rivers only at times of flood and drought, it is time that we implement this programme with a great sense of urgency. We need to make an effort to overcome various hurdles in our way to the implementation of this major project. I feel that it has the promise of freeing the country from the endless cycle of floods and droughts. Also, as a measure for preventing flooding of the streets in the cities due to heavy sustained downpour, I would suggest the Ministry of Urban Development at the Centre and the State governments to mount a programme to rebuild and modernize the infrastructure and storm-water drainage systems including construction of under ground water silos to store the excess water. This water can be treated, processed and used at the time of shortage as practiced in many other countries. Fortunately India has adequate technology and expertise in making underground tunnels for metro rail system. This technology can be used for constructing underground water storage system.

Earthquake Forecasting: Another natural phenomenon that affects and causes damages of high magnitude without pre-warning in many parts of our country is the earthquake. To prevent heavy damage to the people and property, we need to accelerate research for forecasting earthquakes. Research work on earthquake forecasting is being done in many countries. We in India should have an integrated research team consisting of experts drawn from academia, meteorology and Space Departments for creating earthquake forecast modeling using pre-earthquake and post-earthquake data collected from various earthquake occurrences in our country. This can be validated periodically with the proven forecasting data available from other countries.

Earth Systems Science: Many of the countries in the world have experienced successive calamities driven by the nature. Till recently, the researchers world over had been pursuing research in unconnected ways, in Climate, Earthquake, Ocean Sciences and Earth Sciences, without realizing the latent but tight coupling between these areas. This new realization has prompted many countries to pursue the interdisciplinary area of research which is now known as Earth Systems Science. It is in fact fast emerging as an area of convergence between Earth, Climate, Ocean, Environment, Instrumentation and Computer Sciences. I strongly suggest that India should mount a programme in this emerging area of Earth Systems Science. This will call for a dedicated, cohesive and seamless integration between researchers in multiple areas and in multiple organisations. Further, Earth Systems Science doesn?t obey political or geographical borders. It is truly a science and its intensive results would make our planet safe and prosperous.

Unlike research in strategic areas, wherein the nations have to maintain superiority over other nations, Earth Systems Science is the ultimate realization of the human kind to collaborate since no nation is safe if its neighbours are not. Nature?s fury knows no borders.

Dear citizens, on 26th January 2005, I have discussed with you on the potential for employment generation in eight areas. I am happy that a number of actions are evolving.

Energy Independence

Today on this 59th Independence Day, I would like to discuss with all of you another important area that is "Energy Security" as a transition to total "Energy Independence".Energy is the lifeline of modern societies. But today, India has 17% of the world?s population, and just 0.8% of the world?s known oil and natural gas resources. We might expand the use of our coal reserves for some time and that too at a cost and with environmental challenges. The climate of the globe as a whole is changing. Our water resources are also diminishing at a faster rate. As it is said, energy and water demand will soon surely be a defining characteristic of our people's life in the 21st Century.

Energy Security rests on two principles. The first, to use the least amount of energy to provide services and cut down energy losses. The second, to secure access to all sources of energy including coal, oil and gas supplies worldwide, till the end of the fossil fuel era which is fast approaching. Simultaneously we should access technologies to provide a diverse supply of reliable, affordable and environmentally sustainable energy.

As you all know, our annual requirement of oil is 114 million tonnes. Significant part of this is consumed in the Transportation Sector. We produce only about 25 % of our total requirement. The presently known resources and future exploration of oil and gas may give mixed results. The import cost today of oil and natural gas is over Rs. 120,000 crores. Oil and gas prices are escalating; the barrel cost of oil has doubled within a year. This situation has to be combated.

Energy Security, which means ensuring that our country can supply lifeline energy to all its citizens, at affordable costs at all times, is thus a very important and significant need and is an essential step forward. But it must be considered as a transition strategy, to enable us to achieve our real goal that is - Energy Independence or an economy which will function well with total freedom from oil, gas or coal imports. Is it possible?

Hence, Energy Independence has to be our nation?s first and highest priority. We must be determined to achieve this within the next 25 years i.e by the year 2030. This one major, 25-year national mission must be formulated, funds guaranteed, and the leadership entrusted without delay as public-private partnerships to our younger generation, now in their 30?s, as their lifetime mission in a renewed drive for nation-building.

Goals and Policies

Now friends, I would now like to discuss with you some goals, strategies and policies for a major national mission to attain Energy Independence.

Energy Consumption Pattern in India in 2005: We have to critically look at the need for Energy Independence in different ways in its two major sectors: Electric power generation and Transportation. At present, we have an installed capacity of about

121,000 MW of electricity, which is 3% of world capacity. We also depend on oil to the extent of 114 million tonnes every year, 75% of which is imported, and used almost entirely in the Transportation Sector. Forecasts of our Energy requirements by 2030, when our population may touch 1.4 billion people, indicate that demand from power sector will increase from the existing 120,000 MW to about 400,000 MW. This assumes an energy growth rate of 5% per annum.

Electric Power Generation Sector: Electric power generation in India now accesses four basic energy sources: Fossil fuels such as oil, natural gas and coal; Hydroelectricity; Nuclear power; and Renewable energy sources such as bio-fuels, solar, biomass, wind and ocean.

Fortunately for us, 89% of energy used for power generation today is indigeneous, from coal (56%), hydroelectricity (25%), nuclear power (3%) and Renewable (5%). Solar energy segment contributes just 0.2% of our energy production.


Posted by isaheidelberg at 10:31 AM MEST
Updated: Monday, 15 August 2005 11:11 AM MEST